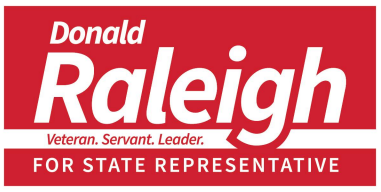 Running a campaign is tough.  Along the way it takes money to do things like buy yard signs, send out campaign literature and get our message out to the voters.  Asking for money is tough as well.  I promise to be fully accountable to you on where and how your money is spent.  Thank you for considering making a donation.
Reelect Donald Raleigh, our State Representative.
Minnesota Residents, you may be eligible for a refund of $50 per person or $100 per couple through the PCR program. If you are a Minnesota resident we will send you a PCR form and receipt. You can mail it in and in about 3 weeks you will receive a refund!
If this is a Joint donation with your spouse please enter their name as well in the field provided. 
Donated before using an account?
Login