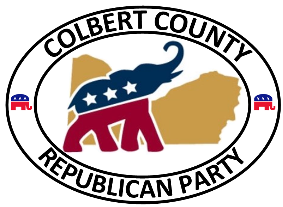 Colbert County Republicans Annual Constitution Day Picnic
Time & Location
September 15th, 5:30 PM – 8:30 PM
Locust Hill, 209 S Cave St, Tuscumbia, AL 35674
About the Event
This is the biggest event of the year for the Colbert County Republican Party.  Each year we celebrate the anniversary of the signing of our nation's Constitution on September 17th, 1787.  
This year we are celebrating at historic Locust Hill at 209 S Cave St, Tuscumbia, Alabama.  Activities begin at 5:30pm with a live band and a chance to meet candidates and fellow Republicans from all over our county and the state of Alabama.  We start serving a delicious dinner from the grill of our very own Commissioner Tyrus Mansell at 6pm, with a keynote address delivered by Alabama Attorney General Steve Marshall at 7 o'clock.  We will also take time to honor one of our most faithful Republican leaders for our county.

ALL SPONSORSHIPS INCLUDE NAME/LOGO ON PROGRAMS, SOCIAL MEDIA EXPOSURE, 3' X 6' BANNERS, AND TABLE SPACE FOR CAMPAIGN ITEMS

NOTE:  USE THE BUTTONS BELOW OR FOR MULTIPLE TICKETS, USE THE "OTHER AMOUNT" FIELD AND TYPE THE APPROPRIATE AMOUNT FOR THE NUMBER OF TICKETS
(EXAMPLE: 2 TICKETS X $25 = $50)
IF YOU ARE NOTE COMFORTABLE PAYING ONLINE, JUST SEND A CHECK TO:
COLBERT COUNTY REPUBLICAN EXECUTIVE COMMITTEE
PO BOX 4201, MUSCLE SHOALS, AL  35661
OR CALL 256-762-4072 WITH ANY QUESTIONS
Donated before using an account?
Login