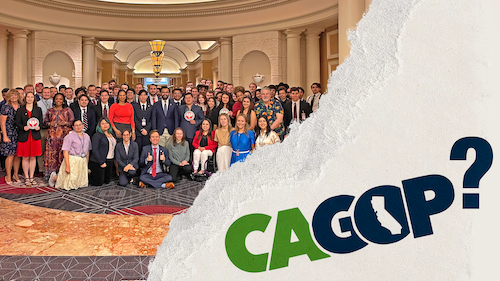 We're trying to get more College Republicans involved in the Party and we need YOUR help to do it!
At Spring CAGOP convention, the Volunteer Organizations Committee passed a unanimous resolution supporting us receiving a permanent charter as soon as possible. We're working with the committee to introduce a bylaw amendment at Fall convention to get this charter.
This level of charter does two key things for the College Republicans: it provides one extra delegate appointment and makes the annual charter paperwork more streamlined — both of which make life easier and increase the involvement of youth in the Party!
Our organization is 60 years old (as of this year!), and we have been a key volunteer group and backbone of the Party during that time — with alumni such as Speaker Kevin McCarthy, Congressman Kevin Kiley, OCGOP Chairman Fred Whitaker, Ben Shapiro, and many more! 
Our mission is to combat the liberal message on campus and in our communities, take back student governments from the Left, campaign for Republicans and help win elections, and train and embolden the next generation of conservative leaders — and our goals can be better assisted with our permanent charter since it solidifies our organization for future College Republicans and allows for a greater connection with the state party. 
Will you give us your personal endorsement for our charter?
Your personal endorsement and support is critical to helping us to persuade other delegates and getting this passed - and you can help be responsible for a great and positive win for the party!