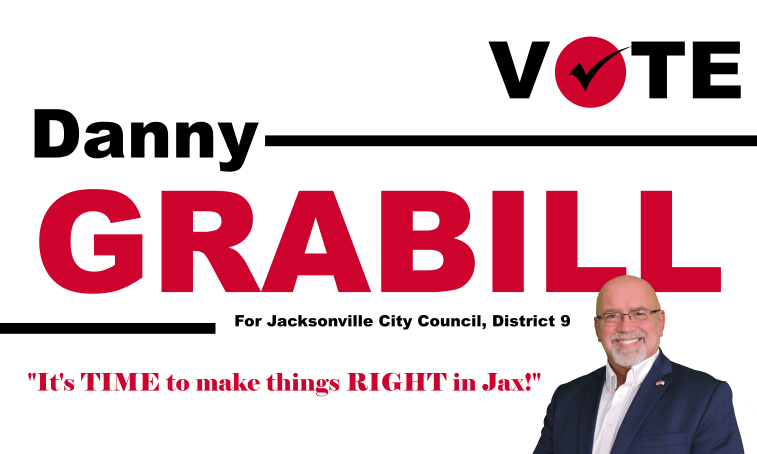 Donate to Danny Grabill for Jacksonville City Council, District 9 in 2022-23
Your financial contribution will help secure a Jacksonville VICTORY in overturning a "BLUE" seat to "RED" with Danny's strong and aggressive voice on behalf of the
Jacksonville District 9 community.
Danny Grabill stands for Christian principles and the dignity and moral integrity of the U.S. Constitution...
•CHRISTIAN
•CONSERVATIVE
•CONSTITUTIONALIST
•CALLED TO SERVE
Danny supports lower taxes, proper allocation of citizen tax dollars, school choice, infrastructure improvement, urban redevelopment, small business opportunities, crime reduction, and improved resources for the homeless, veteran care, and vocational rehabilitation.
"If we apply Christian principles to politics, politics will not defile Christian principles."
- Danny Grabill
It's time to make things "RIGHT" in Jacksonville 
PLEASE SUPPORT DANNY'S CAMPAIGN...DONATE NOW!
If you prefer to donate by check, please mail your contribution to...
Danny Grabill Campaign
6335 Romilly Drive
Jacksonville, FL 32210
Donated before using an account?
Login