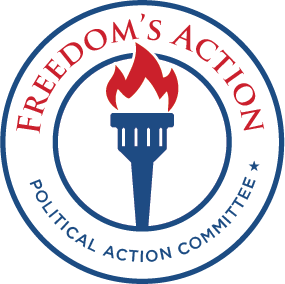 Help us send Pelosi packing
The Biden-Pelsoi Agenda is destroying America as we know it.
Open southern borders...
Inflation...
Skyrocketing prices on food and fuel...
Critical Race Theory in school...
Coronavirus tyranny...
Sending Speaker of the House Nancy Pelosi packing in 2022 is key to defeating President Joe Biden's radical agenda.   
Pelosi is strong-arming Biden's radical agenda through Congress and holding weak-kneed Senate Democrats hostage.  Conservatives like us can BLOCK Biden's radical agenda but we must work together.   
We can BEAT BIDENS AGENDA if we fire Nancy Pelosi as Speaker of the House.
Freedom's Action PAC is storming into the 2022 Mid-Term election, with one mission in mind: BEAT Biden's radical agenda and send Pelosi PACKING.
Here's our plan:
STEP 1 -  DEFEAT at least 5 Congressional seats held by Liberals, and we FIRE Nancy Pelosi as Speaker of the House in 2022.
Step 2 - We fill the new Republican Congressional Majority with ROCK SOLID, AMERICA FIRST conservatives. 
It's not enough just to fire Biden's stooges in the House, we need to ensure that they're replaced with REAL conservatives who will fight for our values. 
Step 3 -- Freedom's Action PAC working with conservatives like you, will rally patriotic Americans to FIRE Joe Biden as President in 2024.
Help us BEAT Biden in 2022, and make sure we have ROCK-SOLID conservatives in Congress, ready to make it happen in 2024.
Are you in?
Donate to Freedom's Action TODAY to help jump-start our fight against Joe Biden. 
Donated before using an account?
Login