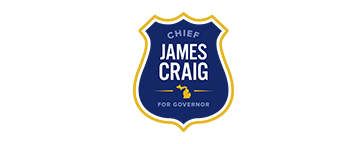 Official Donation Page for Chief James Craig
While cities across America went up in flames last summer, Chief James Craig held the line in Detroit. How? By building trust. By solving problems. And by leading from the front.
Michigan has had enough of politicians that act like kings and queens, with one rule for the masses and another for the elite. 
Agree? Donate now and join Chief James Craig's team to run for Governor of Michigan.

🚨 Your donation today will secure your status as a Lead from the Front Donor!  Contribute today and join our team. 🚨
Donated before using an account?
Login