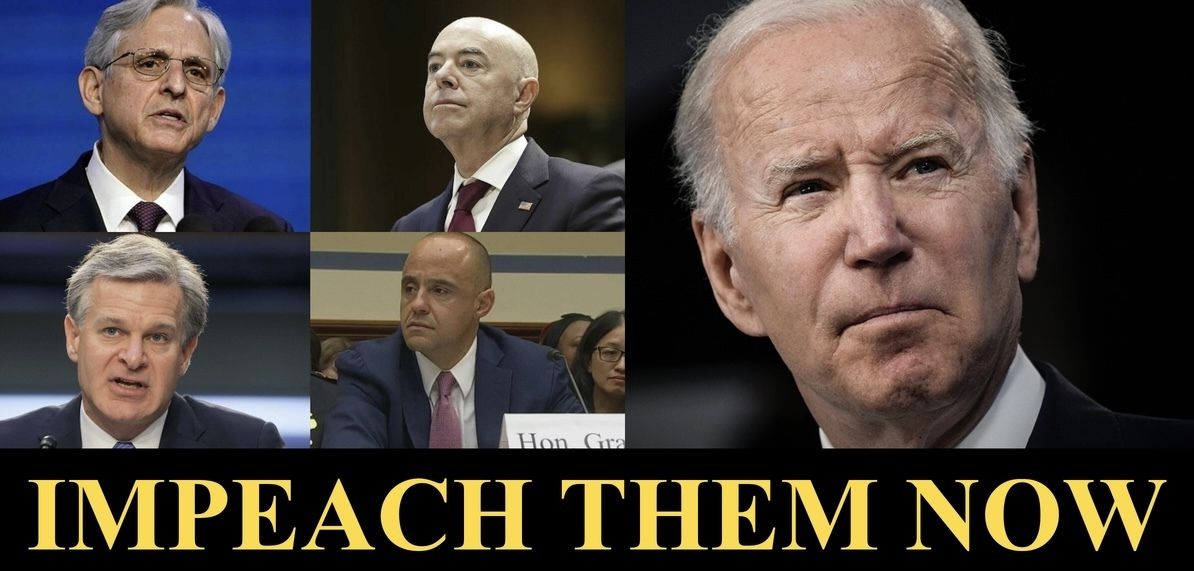 JOIN THE IMPEACHMENT TEAM
CITIZEN COSPONSOR BELOW
One thing is clear.
The Administrative State is CORRUPT to its core and we must do everything we can to REMOVE them from office.
Joe Biden has compromised America's national security by refusing to enforce immigration laws and secure our border. His refusal to uphold our immigration laws has given Mexican drug cartels, human traffickers, violent criminals and terrorists operational control of our border. For this he must be impeached.   
Under Christopher Wray, the FBI has declared war on Americans who have been deemed enemies of the Biden regime.
U.S. Attorney Matthew Graves is Merrick Garland's top lieutenant in D.C. and is responsible for the persecution of J6 defendants who have had their constitutional rights trampled on.
Merrick Garland has used the FBI as a personal police force for the boss of the Biden Crime Family, Joe Biden.
Alejandro Mayorkas for allowing terrorists and human traffickers across our borders and refusing to uphold America's immigration laws. 
These officials MUST be impeached before they can do any more damage to America.
If you agree, become a Citizen Cosponsor right away!
SIGN NOW