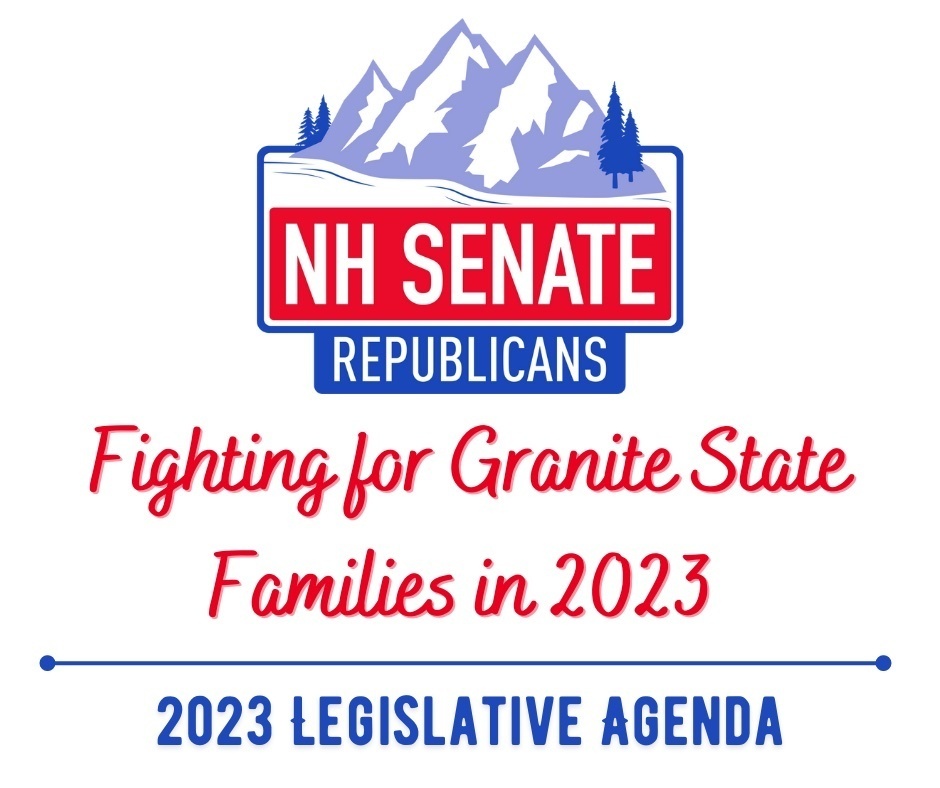 Fighting for Granite State Families in 2023 
In the year 2023, the New Hampshire Senate is focused on empowering Granite State families. 
A Balanced Budget with no new taxes
The Legislature's first and most important responsibility is creating a balanced budget.
Prioritize spending to New Hampshire's most vulnerable populations.

Protect families, small businesses, and our state's economy from new and higher taxes.

Responsible conservative budgets will continue to deliver New Hampshire's fiscal prosperity.

Protect recent tax reductions of business taxes, the Rooms and Meals Tax and the Interest and Dividends Tax and repeal of the Electricity Consumption Tax. 
Protecting our families hard-earned income
New Hampshire families work hard, and we will always fight to protect their livelihood.
Protect the New Hampshire Advantage by not increasing the tax burden on hard working families by never implementing an income tax, a sales tax, and a capital gains tax.

Protect New Hampshire's competitive business climate that is helping the economy grow by not increasing taxes or costly regulatory policies.

Dedicate surplus coming from this budget to the Rainy Day Fund or return to taxpayers to lower property taxes. 
Ensuring our students' access to quality education
New Hampshire has one of the best school systems in the country, but no school is the right choice for every child. We will continue to support local public schools, charter schools, private schools, and home schooling so that every child has the opportunity for the best education possible.
Defend school choice for low-income families from attempts to take away those options, whether in the Legislature or in the courts.

Support public charter schools.

Continue targeted aid for special education students.

Target education aid to school districts with the greatest need. 
Empowering parents
Pass a Parental Bill of Rights so that parents always know what's happening with their children at school.

Ensure parents have a voice in our public education system. 
Helping our working families face rising energy costs
A year and a half of staggering inflation has made it harder for Granite State families to make ends meet, even as New Hampshire's economy has continued to grow. We will fight to help families with rising costs.
Lowering electric rates by expanding supply of new energy sources – traditional and renewable and expanding the use of net metering.

Reform the siting process of energy sources to encourage development of renewable and traditional sources while protecting our environment and working to lower consumer costs.

If budget surplus allows, provide funding for low-income electric and home heating programs. 
Build economic opportunity for our Granite State small businesses
Protecting the New Hampshire Advantage in order to attract employees to the Granite State.
Clear unnecessary red tape that hinders Main Street businesses.

Increasing reciprocity agreements that enable skilled employees to move to New Hampshire.

Provide continued resources of state support for workforce housing.

Improve broadband access across the state by helping to create public-private partnerships serving New Hampshire's rural communities. 
Keeping our communities safe
Community is an integral part of our Granite State, which is why we are committed to ensuring the safety of our streets and neighborhoods. As violent crime increases across the country, we will fight to keep New Hampshire one of the safest states in the U.S.
Reform our bail system to ensure that violent and repeat offenders are not a threat to our communities.

Expand Education Resource Officers in schools and continue funding initiatives for local schools to protect student and staff safety.

Address the growing homelessness crisis that is taking over our New Hampshire cities.

Make sure local law enforcement has the resources to keep us safe. 
Protecting New Hampshire's environment
The Granite State's magnificent environment has always been one of our state's greatest resources, contributing to our quality of life as well as driving our tourist economy. We will fight to protect the environment and public health.
Funding local drinking water and groundwater projects to ensure all New Hampshire families have access to clear, reliable water.

Updating our groundwater protection laws to prevent the spread of harmful forever chemicals in our drinking water supplies.

Replenishing the PFAS Grant Fund. 
Improving health and well-being of Granite Staters
Continually improving New Hampshire's mental health and substance abuse resources. 
Easing regulatory barriers to make it easier for mental health providers to relocate to New Hampshire.

Opening a 24-bed forensic hospital to provide treatment for acute mental illness.

Building a permanent secure facility for youthful offenders.

Continue access to health care for low-income Granite Staters and reducing the costs of uncompensated care through the Medicaid program.

Ensure funding to protect children from abuse and neglect and funding for families with disabled children. 
Help us promote our Republican Agenda! Donate to our campaign below:
Donated before using an account?
Login