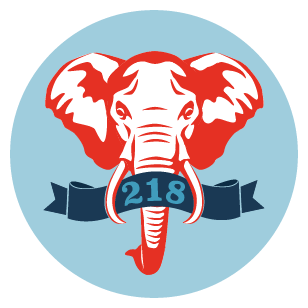 WHAT IS THE 218 YOUNG PROFESSIONALS PROGRAM?
The 218 Young Professionals Program is the NRCC's Washington DC personal individual donor program that consists of Young Professionals (age 35 or younger) who contribute $1,000 to the NRCC. Contributions can be made in monthly installments.
The 218 Program serves as an advisory group between the downtown community and NRCC Leadership. 218 members are invited to exclusive events featuring Republican Members and Leadership and are kept up to date with the latest political news.
HOW DOES THE 218 YOUNG PROFESSIONAL PROGRAM BENEFIT YOU?
In addition to helping the NRCC take back the majority, your contribution entitles you to the following benefits:
· Invitation to attend ONE quarterly 218 Committee Reception Series event
· Invitation to attend Receptions with Members of Congress
· Invitation to monthly 218 Political Briefings presented by the NRCC Political Team & House Leadership Political Staff
· Invitations to attend receptions with Political Staff
· NRCC political email updates containing important political and election year information and the latest political developments
For more information, please contact Deputy PAC Director Lauren Williams at 202-479-7000.
Donated before using an account?
Login