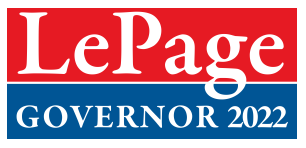 Donate to Governor Paul LePage's 2022 Official Campaign.
We Must Move Maine Forward.
JOIN THE GOV'S CLUB
Donate at least $20.22 each month and for special prize drawings, access to LePage gear, and unique updates directly from Paul. Any contribution of $20.22 or more and checking the monthly recurring donation box button allows you to join Paul's GOV'S CLUB.

Donated before using an account?
Login