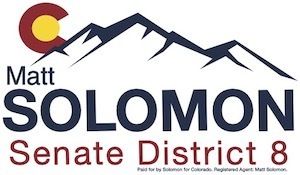 DONATE NOW TO SUPPORT MATT SOLOMON FOR COLORADO'S SENATE! 
Friends,
I'm not a politician. I'm a public servant, an entrepreneur, and a dedicated leader.
I cannot sit back watching the current status quo ruin our state, while leaving the Western Slope of Colorado mis-represented. 
This is a team effort.
I cannot do it alone - I need your support.
Please DONATE NOW to join the team as we end the one-sided Democratic rule in our great state. 
Many thanks,
Matt Solomon
Donated before using an account?
Login