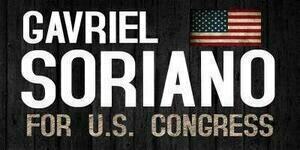 Dear American Patriot,
To save America from socialism, from inept and corrupt politicians, and to safeguard our God-given Rights and Liberties, your financial contribution is vital!
I am Gavriel Soriano and I am running hard and fast for the United States House of Representatives to protect the practice of these our unalienable Rights.  Tyranny would vanquish them; Duty compels us to war against it and to triumph.  Together, we will, reduce taxes, minimize government, and defend the Constitution.  Your Conservative Voice is a sacred principle in our Republic and I am that vigorous Public Servant translating it into action! 

Thank you for fighting alongside us with your generous contribution!
Courage!  We are strong!  God is with us!  Onward then, to the Victory!

Donated before using an account?
Login