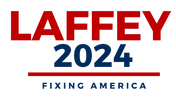 Steve Laffey is running for President because we must directly confront our problems.  Elected leaders of both parties have avoided major issues far too long and now a financial crisis is upon us.

Steve's unique background in finance, education, and in directly solving problems makes him the right candidate for these times. He will change the very nature of the debate.

His film, Fixing America, and his book, Primary Mistake, correctly foretold the growing menace of China and the financial calamity we are now entering.  

Help Steve and this country by donating generously now, so Steve can help us fix America...before it is too late.
DONATE TODAY!
Donated before using an account?
Login