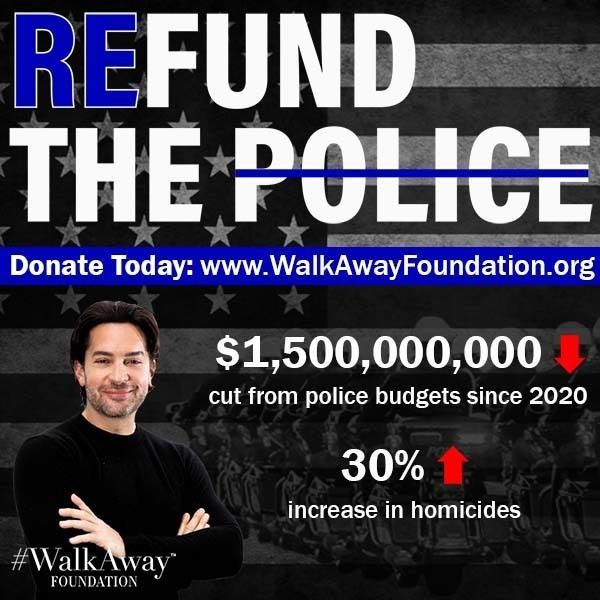 REFUND THE POLICE!
In 2020, our heroes in blue were attacked with calls to DEFUND THE POLICE. This year, several cities in this country have bowed to the mob and complied with this outrageous and dangerous demand. 
Among these cities, funding cuts have ranged from $850,000 to $1 billion per city!
As a result:
Homicides in Minneapolis increased by 60%

The murder rate rose nearly 30% nationwide

Atlanta experienced its most violent year ever in 2020

NYC murder rate increased by 47% in 2020 during anti-police rioting

Cities that defunded police departments are hardest hit by a rise in shootings

Over half of all murder victims in 2020 were black
This holiday season, #WalkAway Foundation implores all Americans to come together for the greater good of our safety and GIVE BACK to our heroes in blue who've been disgracefully maligned.
It's time to REFUND THE POLICE!
Contribute now and #WalkAway Foundation will donate 75% of all funds raised to the 14 police departments that need it most! We will only work with police associations that want to restore funding to their DEPARTMENTS, not those who want to invest in "social programs" that jeopardize our safety and result in astronomical rises in crime. 
Patriots, give as much as you can to help our demoralized, demonized, and defunded heroes in these cities:
New York City

Washington, D.C.

Baltimore

Philadelphia

Los Angeles

San Francisco

Atlanta

Minneapolis

Seattle

Salt Lake City

Portland, Oregon

Hartford, Connecticut

Norman Oklahoma,

Austin, Texas
#WalkAway will donate 75% of the funds raised to pro-police organizations in these cities. The other 25% will be used for the cost of overhead for this campaign.
Sources:
https://nationalpolicesupportfund.com/what-happens-when-cities-defund-police-departments/
https://www.heritage.org/crime-and-justice/commentary/fbi-statistics-show-30-increase-murder-2020-more-evidence-defunding
Donated before using an account?
Login