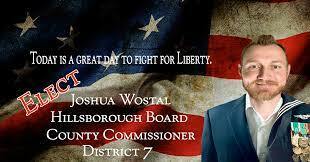 Donate to liberty-minded candidate Joshua Wostal for Hillsborough County Commissioner for District 7.
To contribute by mail, please send a personal check made payable to "Wostal For Office" by completing the attached form and sending it to the address provided within. 
The maximum contribution under Florida Law is $1,000 per person or business, per each election cycle (primary or general election).
Donated before using an account?
Login